One of my favorite "games" is the random Google image search. Today's word was "Lament", and I am stunned by the variety of rather powerful images that cropped up. I would like to share with you a few, in various art forms.
| | |
| --- | --- |
| Noun: | A passionate expression of grief. |
This strange but heart-stopping image was pulled from http://fikrijermadi.blogspot.com/2009/10/lament.html. I don't know who the original artist is. If the original artist is the blogger in question, super kudos to them, because this is my favorite "lament" picture that popped up in the search. It seems to be a representation of innocence lost, and the deep sense of sadness an being without direction that goes with it.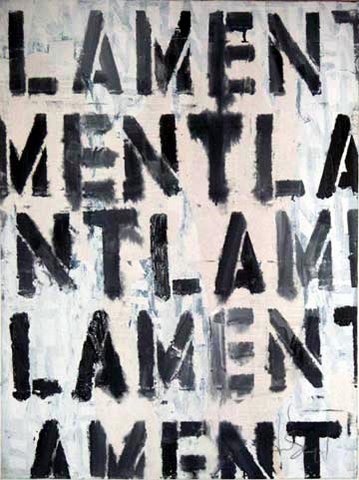 A whole page of "Lament" text art can be found here, artwork done by David Sweeney. It is interesting how the way the letters themselves can be manipulated visually to alter or reinforce the meaning of the word.
This painting is Known as The Lament for Icarus. It was painted in 1898 by Herbert James Draper. The Icarus tale, for those of you unfamiliar with it, is that of a young man whose father constructed a pair of wings of feathers and wax, to allow his son to escape his prison. His father instructed him not to fly too close to the sun, lest the wax melt, and the wings fail to carry him. But the young man, exhilarated with flight, ignored this caution, flew too high, an the wings began to unravel. Here he is pictured after the fall, youthful body broken, wings askew, while mythical maidens curiously observe him.
This clay sculpture was pulled from http://quefascinante.blogspot.com/2010/04/ritualizing-doubtsorrowlament.html. The original artist is not credited. The subject here assumes a typical pose of grief, one hand covering an eye, the other covering the mouth. . .seen also here, in a powerful photograph of a woman weeping, also uncredited. I'm not entirely sure I have ever demonstrated sadness via this pose, or seen anyone do it except for in art. Interesting.
And another one, this one done by Kathe Kollowitz in 1938-1940, in bronze.

And finally, this one, "Tinman's Lament" by illustrator Dan May, whose work I accessed here, at a really neat illustrations blog. This image manages to capture sadness in simplicity. Also, it is adorable.